I'M GOING TO HELP MAKE YOU

Do you feel lethargic, unmotivated, disconnected or just plain gross?
Are you uncomfortable with how your body looks now?
Do old photos upset you because you were in better shape before?
Do you feel like there just has to be a better way but you don't know how to change?
With all of the fitness information that's out there, are you confused on what you need to do to?!
Do you lack a game plan, accountability & support?
Would you like to have a step-by-step system to guide you to:
Feel happier, more energized and more confident
Feel more comfortable in your own skin
Wake up inspired and go to sleep feeling fulfilled
A community of like-minded individuals working towards the same health & fitness freedom together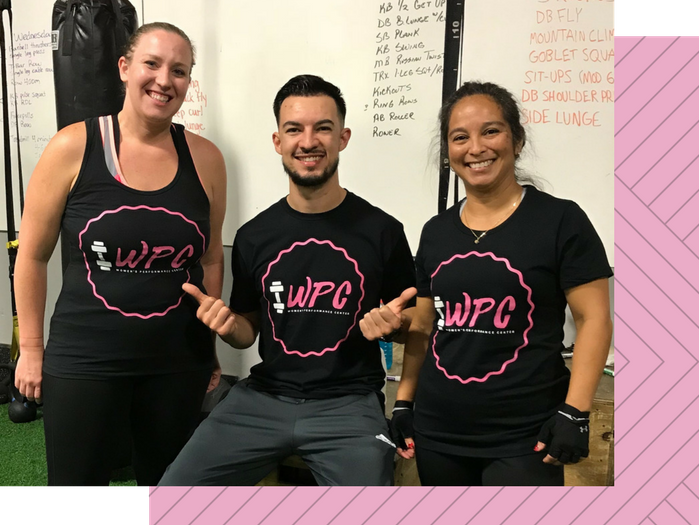 HERE'S WHAT I KNOW ABOUT YOU

…Feel happier
…Feel more alive
…Look better in clothes…or look better naked
…Feel worthy
…Enjoy showing off the body you've worked hard for
…Have a structured fitness game plan to work into your busy schedule

Stop feeling lost inside of the gym
When we set a goal, create a plan, follow the plan and see results – you'll instill the confidence required to change who you are. Each exercise in your program has a video tutorial so you'll know exactly how to execute it. You'll receive a custom training program that matches your goals and priorities. Optimal programming: Number of sets, number of reps, rest interval lengths included for every workout.

Don't go at it alone
You'll always have the guidance you need from me as your coach and the support of your fellow Women's Performance Center members.

Don't stress about how to eat or what to eat ever again
I'm going to give you thorough meal plans based on what you like including breakfast, lunch, dinner & mid-day snacks. I'm going to teach you the in's and out's about nutrition, portion sizes, what to eat and when to eat to meet your goals. I'm going to calculate the exact calories and macro-nutrients targets that you need to meet your goals as quickly as possible.
Women who AREN'T a complete beginner at fitness training. (ex. Can perform a squat fairly correctly)
Women that can invest at least 2-3 hours/week towards their fitness regimen
Women who are tired of doing cardio for hours each day and getting minimal – zero results
Women that are ready to live a better life, NOW!
Matt is an awesome trainer, highly recommend him. He has taught me so much not only about training, but also eating and making it all come together to get results. He is very patient, but also pushes you to do better. I am one that is not real coordinated in the beginning, but with his training I have changed all that and it feels great. If you are looking for a patient but tough trainer who will bring out the best in you, I highly recommend Matt Olsen.
– Linda
Matt Olsen is the best trainer out there he is professional and caring.
I have always hated the thought of "going to the gym for a workout" it's just not something I enjoyed, but Matt is super motivating, and genuinely cares about his clients & their well being. He is especially good with finding exercises that work for you specifically, I have a knee injury and Matt is always concerned and making sure I am doing things correctly so I don't cause further damage. You can't find any better personal training than Matt Olsen!
– Debbie
Matt knows what he is talking about, big factor if you REALLY want to make a change. He will not sugar coat it for you. But if you want real results that will last I definitely recommend him. you won't go in to do a couple sit ups and call it a day. He has been a great teacher, I feel I have been given the right tools, I have learned a lot about my body and I have noticed a huge change! I love it and I'm very happy and gaining confidence!
– Randi
Online Personal Training Application Form